Update: in case you missed it – my presentation is now available on YouTube:
November 10, 2016
10:00 a.m. – 11:00 a.m. EST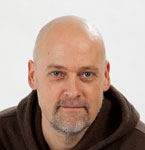 Professor of Physiology and Biophysics
Director of the Bioinformatics and Virtual Metabolomics Core
Weill Cornell Medicine – Qatar
Genome-wide association studies with concentrations of hundreds of small molecules in samples collected from thousands of individuals (mGWAS) access otherwise inaccessible natural genetic experiments and their influence on the metabolic capacities of the human body. By sampling the natural metabolic and genetic variability that is present in the general population, mGWAS identified so far over 150 associations between genetic variants and variation in the metabolic composition of human body fluids. Associations identified by mGWAS can reveal novel biochemical knowledge, such as the function of uncharacterized genes, the biochemical identity of small molecules, and the structure of entire biochemical pathways. Knowledge of genetic variation in metabolism has many applications of biomedical and pharmaceutical interests, including the functional understanding of genetic associations with clinical end points, design of strategies to correct dysregulations in metabolic disorders and the identification of genetic effect modifiers of metabolic disease biomarkers. mGWAS with growing sample sizes and increasingly complex phenotypic trait panels, such as proteomics and glycomics, are currently being conducted, allowing for more comprehensive and systems-based downstream analyses. In this presentation, Dr. Suhre will review work done by his group and collaborators in past and recent mGWAS, discuss extensions to multiomics phenotypes, and outline possible ways to translate mGWAS findings to clinical and biomedical application.
Dr. Suhre is a Professor of Physiology and Biophysics at Weill Cornell Medicine and the Director of the Bioinformatics and Virtual Metabolomics Core at its branch campus in Doha, Qatar. He holds a Ph.D. in Atmospheric Chemistry and Meteorology from the University of Toulouse III, France, and graduated in Physics from the University of Osnabrück, Germany.